Cape-Ape Mini Trucks*
Affordable, tough, effective and versatile, Cape-Ape mini trucks have quickly established a reputation as a go-anywhere, all-seasons utility vehicle that's perfectly suited to a broad range of applications. Agricultural operations of all sizes and varieties are delighted with the fact that Cape-Ape mini trucks have such low ground pressure yet possess enough torque to climb steep hills and pull substantial loads.

Cape-Ape mini trucks boast an enviable list of features and are superior to any other vehicle of their type. Standard 4x4 and manual transmissions make these vehicles perfect for off-road use or slogging through drenched fields. The drop-down side and rear gates on the bed are ideal for loading and off-loading product, and with a carrying capacity of 1,400 pounds at low speed, these trucks are set to haul some impressive cargo! Heaters are standard in the two-seat, fully-enclosed cabs, and some are also available with air conditioning to make them truly year-around comfortable. Cape-Ape mini trucks are also user-friendly with normal vehicle maintenance requirements and excellent fuel economy.

The Japanese have been manufacturing Mini Trucks since the early 1960s for agricultural and on-road use. Cape-Ape Imports, LLC is able to import high-quality, low-mileage mini trucks that can deliver years of reliable service. With affordable and competitive prices, Cape-Ape Mini Trucks are a perfect alternative to their more expensive and less capable competitors.
Mini Truck Facts at a Glance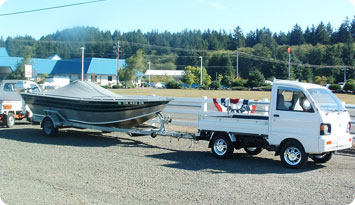 Uses: Like all farm/work implements, Cape-Ape Mini Trucks do not have titles and cannot be licensed as passenger vehicles.


Manufacturers: Suzuki, Mitsubishi and Daihatsu. These trucks are built like a typical pick up truck - only "Miniature"! We will help you choose which make is best for your application.


Parts: Cape-Ape Imports can get any necessary replacement parts for mini trucks, and many parts
can also be found at local auto parts stores.


Service: Mini trucks are easy to work on and can be serviced by any mechanic.


Engine: gas-powered, 660 cc, 3-cylinder, 4-stroke, liquid-cooled.


Load Capacity: 1,400 pounds at low speed.


Weight: 1200-1500 pounds.


Dimensions: 4.5 feet wide by 10.5 feet long with a 6-foot bed.


Speed: Governed at 20 mph due to import restrictions, but originally built to cruise at highway speeds. Cape-Ape Mini Trucks are Federally regulated and restricted to low speed.


Fuel economy: Many sources claim that mini trucks will get 40+ mpg, but our customers are reporting actual mpg to be in the upper 30's.


Transmission: Manual.


Standard Features: Fully enclosed and locking two-seat cab with heater, windshield wipers, automotive lights with blinkers and hazards, radial tires on 12" rims, and a versatile bed (side and tailgate fold down and can be removed easily to make a flatbed).


Factory Options: A/C, dump beds, locking axles, hi-low range, and extended cabs.
* The information on this page relates to the used 4wd drive mini trucks we import from Japan.